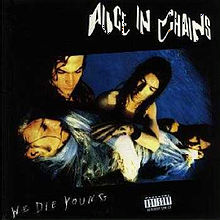 "We Die Young" is a single EP by the American rock band Alice In Chains. It was released in July 1990 and is their first studio EP. This was a promo only EP released on vinyl and cassette, and is thus a sought-after collector's item amongst Alice in Chains fans.
Background And Recording
Edit
Bill Adams of Ground Control Magazine, reviewing Alice in Chains discography wrote "For anyone who was already paying attention to Alice in Chains by 1990, that the band was signed to a major label (they were the second (after Soundgarden) of the more mainstream "grunge" bands to get signed, actually) likely didn't come as much of a surprise. The band had the chops and a sound that could pass as similar to the metal of the day (well, at least some of the time), and they were at least as good as Skid Row, Warrant, Living Colour and Winger – who were all getting a lot of attention at the time – so that Alice in Chains would even get a cursory glance from the majors seemed inevitable. Upon signing with Columbia, Alice in Chains made it clear that they were willing to play ball on major label, mainstream terms too; for the We Die Young EP, the band selected three songs from their book which most closely resembled the swaggering, crotch-grabbing norm, and played them to the hilt."
In the liner notes of 1999's Music Bank box set collection, guitarist Jerry Cantrell said of the title track:
I'd just temporarily moved in with Susan Silver because Sean and I had just had a fight. So I was riding the bus to rehearsal and I saw all these 9, 10, 11 year old kids with beepers dealing drugs. The sight of a 10 year old kid with a beeper and a cell phone dealing drugs equaled "We Die Young" to me.
Track Listing
Edit
Personnel
Edit
Layne Staley – lead vocals
Jerry Cantrell – guitar, backing vocals
Mike Starr – bass guitar
Sean Kinney – drums, percussion