Jar Of Flies

Unknown

Released
Unknown
Recorded
Unknown
Length
Unknown
Label
Unknown
Producer
Unknown
Jar of Flies is the third studio EP by the American rock band Alice In Chains, released on January 25, 1994 through Columbia Records. It is the first EP in music history to debut at number one on the Billboard 200 Chart and was well received by critics. The EP has since been certified triple-platinum by the RIAA and has gone on to sell 4 million copies worldwide. Jar of Flies is one of the biggest sellers in Alice in Chains' catalogue.
Background And Recording
Edit
Following Alice in Chains' extensive 1993 world tour for Dirt and appearance at Lollapalooza, the band members returned home to Seattle to find themselves evicted from their residence after failing to pay the rent. The band then moved into London Bridge Studio feeling lonely and depressed. Vocalist Layne Staley said the band "just wanted to go into the studio for a few days with our acoustic guitars and see what happened. We never really planned on the music we made at that time to be released. But the record label heard it and they really liked it. For us, it was just the experience of four guys getting together in the studio and making some music."
Written and recorded in one week in September 1993, Jar of Flies was produced by the band members themselves with Toby Wright, and marks the first major studio recording with bassist Mike Inez "(the band recorded two songs with Inez, "What the Hell Have I" and "A Little Bitter", for the Summer 1993 Last Action Hero soundtrack earlier in the year)". Guitarist Jerry Cantrell said, "That was the first time we'd written with Mike Inez...The whole Jar of Flies EP proved to both us and the fans what a talented and valid part of the band Mike was. He plays the nastiest, darkest shit but he's got the sweetest heart in the world."
According to Staley, the title for the album came from a science experiment Cantrell conducted in third grade: "They gave him two jars full of flies. One of the jars they overfed, the other jar they underfed. The one they overfed flourished for a while, then all the flies died from overpopulation. The one they underfed had most of the flies survive all year. I guess there's a message in there somewhere. Evidently that experiment had a big impact on Jerry."
Track Listing
Edit
All music composed by Jerry Cantrell except where noted. All lyrics by Layne Staley, except where noted..
No.
Title
Lyrics
Music
Length
1.
"Rotten Apple"  
Cantrell, Mike Inez
6:58
2.
"Nutshell"  
Cantrell, Inez, Sean Kinney
4:19
3.
"I Stay Away"  
Cantrell, Inez
4:14
4.
"No Excuses"  
Cantrell
4:15
5.
"Whale & Wasp"  
[instrumental]
2:37
6.
"Don't Follow"  
Cantrell
4:22
7.
"Swing on This"  
Cantrell, Inez, Kinney
4:04
Total length:
30:49
Personnel
Edit
Alice in Chains
Layne Staley – lead vocals
Jerry Cantrell – guitars, vocals
Mike Inez – bass, guitar, additional vocals
Sean Kinney – drums, percussion
Production
Produced by Alice in Chains
Engineered and mixed by Toby Wright
Assisted by Liz Sroka and Jon Plum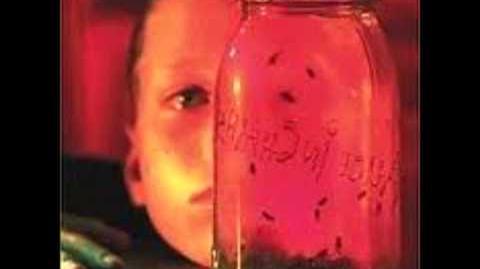 Ad blocker interference detected!
Wikia is a free-to-use site that makes money from advertising. We have a modified experience for viewers using ad blockers

Wikia is not accessible if you've made further modifications. Remove the custom ad blocker rule(s) and the page will load as expected.